Live streaming is the best choice for enjoying a real-time engagement with the audience. It also increases the visibility of the brand and allows conferences and virtual meetings. The pandemic has popularized the use of live streaming platforms and proved that it is an ideal tool for businesses to connect with the audience. With a platform and an internet-enabled device, live streaming is possible. Here are some popular live-streaming platforms used around the world.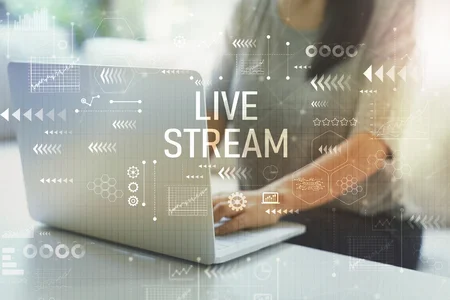 YouTube Live is used by several creators to form, discuss, and educate social groups in real-time. An encoder stream, mobile, or webcam can be used by the creators for this. It is an ideal platform for video content creators.
Facebook Live is a good platform for the broadcasters to interact with the audience on promotional events, conversations, Q&A, etc. Live streaming can be done from anywhere around the globe using a device on which Facebook is installed.
Instagram Live feature is included in the Instagram stories where creators can connect with the audience. The followers will get a notification whenever the host goes live from their profile. Several brands use this live feature to connect with their customers.
UStream is an IBM Cloud Video that helps its members to live stream using the broadcasting application. There are about 80 million users for UStream every month and is the largest platform for live streaming.
Organizations and individuals can use Linkedin Live to interact with the professional audience through live videos. The platform is ideal for demonstrations, promotional events, product launches, etc as it helps to interact with the audience in real-time.
Twitch focuses on the tech and gaming industry. It is the biggest live streaming platform in the gaming industry. The platform also offers different ways to help you monetize your content. The account holders can use the platform for free.
This is a full-featured and reliable live streaming platform that uses restful, flexible, and simple API to make the live streaming enterprise-level. The platform makes use of SSAI technology to offer a buffer-free and pause-free viewing.
This platform offers highly interactive live streaming. The streams are fast and reliable and have the power to influence the audience in real-time. There are many embedded functionalities in the platform and it also extends its support for OTT streaming.
Vimeo offers unlimited storage and events. It is an ideal live streaming platform for OTT and there are 3 different plans on the platform. The intuitive interface, video management platform, flawless streaming, Q&A, live polls, etc are some of the major features of Vimeo.
DaCast is an ideal live streaming platform for businesses of all levels. The reliable, impressive, flexible, and interactive content quality of DaCast is a noticeable feature. The platform is easy to create and handle. It is an economic service too and is set with various security features as well as real-time analytics. In addition to the above, there are several live-streaming apps available for cryptocurrency, such as Crypto Banter, Crypto Pro: Live Coin Tracker, and YouNow. It all brings you the hottest crypto news, market updates, and fundamentals of the world of digital assets. If you want to involve actively in crypto trading, you can opt for trading bots by running through bitcoin buyer test at the comfort of your own home.